October 17, 2012 at 5:54 am
An ensemble of Kapamilya artists sing this year's Christmas station ID theme song "Kwento ng Pasko." Watch the video below for their music video shot during recording.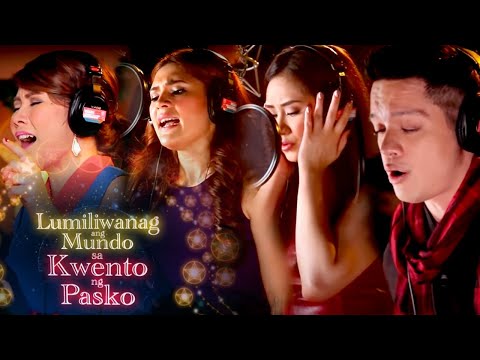 The 2012 Christmas Station ID was created by ABS-CBN Creative Communications Management headed by Robert Labayen, Johnny Delos Santos, Patrick de Leon and Ira Zabat. It is directed by Paolo Ramos with Peewee Gonzales. Logo design by Melo Saliendra, head of Print Graphics and Design. The SID Creative and Production team members are Dang Baldonado, Danie Sedilla-Cruz, Edsel Misenas, Kathrina Sanchez, Christina Barbin, Christine Joy Laxamana, Marchie Blaire Mallari, Sheryl Ramos, Adrian Lim, Carla Payongayong, Chiz Constantino-Perez, Christine Daria-Estabillo, Lota Rosales, Lloyd Corpuz, Mark Bravo; with ABS-CBN Marketing's Cookie Bartolome, Baroy Morga, and Chris Wong; ABS-CBN TV Entertainment, ABS-CBN News and Current Affairs, ABS-CBN Regional Network Group, and ABS-CBN Global.
Other members are Jaime Porca, Technical Production head;  Rommel Andreo Sales, Director of Photography; Sam Esquillon, Production Designer; Oliver Paler, Alfie Landayan, Meryl Miranda, Con Ignacio, Post Production Team; Jimmy Muna, sound engineer; Winnie Mariano, artist coordinator; Mary Ann Rejano, Remy Sotto, Talent Caster; Marvin Bragas,  Location Manager;  Marileth Abejero, Photographer; and Darwin Duenas, Production Coordinator.